This year's SPAKL celebrated it's 15th year and what a mind-blowing 3 days of local and international creatives sharing their stories, what the future has in store, changes for good, design with empathy and bucket loads of inspiration.
Covering graphic design, photography, advertising, product design, film, gaming, AI, VR and more. Following is just a glimpse from some of the emotive, funny and interesting clips relating to some speakers.
Day 1 kicked off with fascinating speakers from big wig global companies which focused on the Future of the Future.
One thing I learnt was that Artificial Intelligence (or augmented intelligence as I think one of the Google speakers preferred) is here to help people but not replace them. It can help automate jobs but we'll still need people designing for it. They said that 65% of children entering school will work in "net new" job types. Will we be designing for sphere screens and rectangles will be a thing of the past – who knows but it looks exciting?
The afternoon featured RARE which focused on embracing difference.
There are some great grants available through RARE, one of which is from The Auckland University of Technology 3rd year grant. $5,000 in student support for two third-year students – one from the Bachelor of Communications, and one from the Bachelor of Design.
Other grants:
Berlin School of Creative Leadership paid scholarship to attend EMBA in Berlin (43,000 Euro)
Three month paid internship at Grumpy Sailor Sydney.
To find out more email through this website.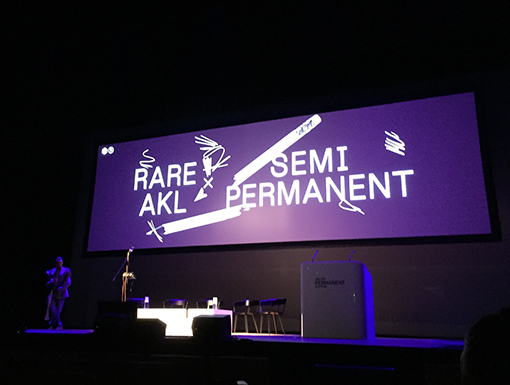 Beth O'Brien gave insight to what it was like working in New York on the Hillary Clinton presidential advertising campaign.
Here's the much acclaimed Role Models ad she helped create.
She also talked about the protests that followed the elections and had on stage a friend's dad's actual Protest sign from the historical NZ Springbox Tour that looked like this.
Removing the grey area around consent.
Instead of no means no she described how it should be yes means yes. Three ways people respond when being forced against their will are Flight, fight or freeze (in which case someone may not be able to say no).
50 shades of No features 50 ways real women have said No and been ignored. These phrases made up 50 designs printed on tshirts and the campaign gathered support around the world. To the extent that some people wanted to print their own experience words on tshirts.
Treated us to a natural no refind sugar iceblock as we sat back and watched a short film. Afterwards founder Craig Jackson asked who had a great experience eating thier iceblock to which a large swoop of hands went up. He then asked who had bad experience to which a handful of people raised their hands. He then went on to say that he had actually mixed up the ingredient ratios on purpose for those ice blocks to highlight the small percentage of "minority" people in the creative sector. Iceblock stencil packaging by Flox made specially for SPAKL.
Such a fan of Flox art so it was super cool to hear her talk about her craft. She hand cuts each stencil and the stencils themselves make beautiful pieces.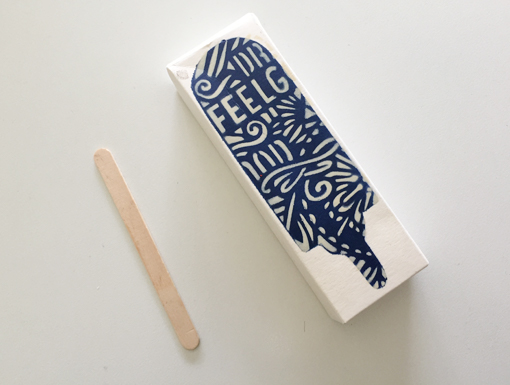 Day 2 & 3 continued with amazing speakers:
Chip Kidd a leading book cover designer and writer from New York totally found a space in my heart after sharing a very personal story of his life and working through the loss of his partner Sandy. A powerfully moving way to start day 2.
If you missed SPAKL18, join the other 2 million+ and view his humorous and inspiring TED talk.
Mark Smith and Alan Bibby – Kiwi creative directors at MPC New York introduced us to Yet(i) the cutest character evvverrrr.
Irma Boom
Have you ever seen a book which does not have pages but only covers? Hard to imagine but that's exactly what Irma Boom made for Dutch fashion design brand Viktor&Rolf. She was fascinating. Do a search on the net and you'll find a huge array of amazing books she's designed. This is one she designed for a Tribute to Coco Chanel – no ink – all blind embossed.
Michael Muller not only shared his stories behind the camera but also bought his VR (virtual reality) film Into the Now with him. SP goers got to strap on a VR headset and immediately get exported into the real filming world of Michael Muller and his surroundings. To experience a whale floating above you, sea-life all around you and the feeling of riding alongside on a boat expedition was awesome. It certainly made me less afraid of the deep blue. Stamford University are exploring how VR can help people with PTSD and anxiety. Michael explained he had originally had a great fear of sharks but now he swims with them and is on a quest to protect them.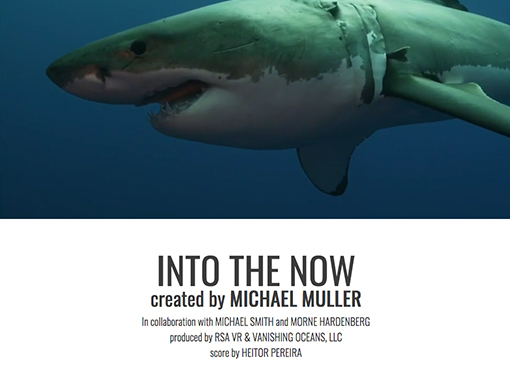 Thanks to everyone involved in bringing this event to Aotearoa – look forward to next year!